Couple Honored for Establishing Holland/Zeeland Promise Scholarship Scheme
Bob and Colette DeNooyer understand the power of education to transform lives.
In 2010 they led a group of business and community leaders to come together to create the Holland/Zeeland Promise Scholarship Scheme. This bottom dollar scholarship is awarded to highly motivated local students who are often the first in their families to go to college.
The DeNooyers were recently honored for this vision with the 2022 Marvin C. Lindeman Distinguished Service Award from the Community Foundation of the Holland/Zeeland Area (CFHZ). The award recognizes their contributions to the community through the foundation.
Bob and Colette DeNooyer react after receiving their award
The Holland/Zeeland Pledge was created for local students with high financial need, proven academic achievement, and motivation to achieve the goal of a college or technical degree.
"Commitment, heart and passion"
The award was presented at the foundation's annual luncheon on May 26 at the Holland Civic Center.
"It's worth acknowledging what Bob and Colette have done with their vision of how to make our community a better place," said Mike Goorhouse, President and CEO of CFHZ. "It takes a certain type of commitment, heart and passion to take that vision and turn it into what the Promise program has become. They took an idea and turned it into something that has already had an impact over many lives, and it is set to impact many more lives for years to come.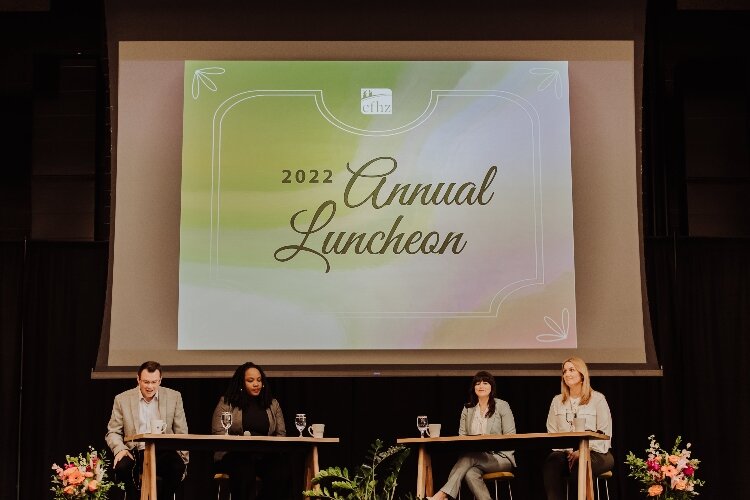 Mike Goorhouse, Yah-Hanna Jenkins Leys, Elizabeth Kidd and Colleen Hill attending the CFHZ Annual Luncheon.
The Marvin C. Lindeman Distinguished Service Award was established in 2005 and is given to former board members or key volunteers to recognize and thank them for their meritorious service to CFZH.
The award is named after a dedicated volunteer and fundraiser in Holland/Zealand. Lindeman was instrumental in obtaining funds for the Herrick District Library, and his efforts contributed to the growth of numerous non-profit organizations, including the Century Club and the Holland Museum. He was one of the founders of the Holland Community Foundation and served as both a trustee and chairman of the board for several years until his death in 1972.
Past Lindeman Award winners include Ann Query (2019), Char Amante (2016), Peter Neydon (2015), Grace Piersma (2012), Jeffrey Helder (2010), Harvey Buter (2009), John Nordstrom (2008), James M. Watt (2007), Ronald Dalman (2006) and James Townsend (2005).
"We are delighted with the continued success of the Promise. This wouldn't happen without the financial support of this community that has stood together to help deserving students achieve their dreams for over 10 years now," the DeNooyers said after accepting the award. "There are many people to thank for their support, and among that list is the Community Foundation and in particular Stacy Timmerman, Director of CFHZ Scholarships. The side-by-side support services that the foundation has helped coordinate are key to helping these talented young people succeed. We are very grateful for this recognition.