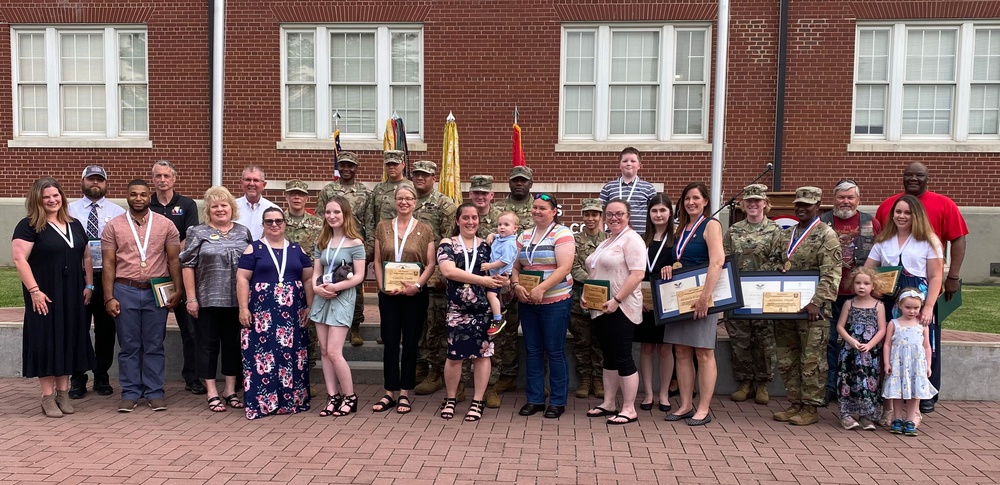 DVIDS – News – The 1st TSC volunteers recognized by the commanding general
FORT KNOX, Ky. – Soldiers, civilians and family members of 1st Theater Support Command volunteer military members were recognized May 19 in a ceremony presided over by Maj. Gen. Michel M. Russell Sr. , commanding general of the 1st TSC.
Twenty-seven volunteers received awards for their 19,166 cumulative volunteer hours in our Soldier and Family Readiness Group, on unit functions, in our commands and with our eight local community partners. Volunteers are estimated to have saved the government over $575,000.
The Commanding General began by telling the soldiers present that they too are volunteers, as they have chosen to serve in our all-volunteer army.
Russell and 1st TSC Command Sgt. Major Albert E. Richardson Jr. thanked all recipients and personally presented each with their award. "Thank you for volunteering your time," he said.
"Time is the most valuable thing volunteers give and we all benefit from it," added Russell.
Volunteers helped pack food for those in need, attended deployment and redeployment ceremonies, made more than 400 calls to the families of our deployed first team members each quarter, picked up trash, participated in Wreaths Across America and cooked for others. They have volunteered with Hospice Care, Girl and Boy Scouts of America, and schools.
Volunteer and former police officer, Rashad Phinisee, assisted with the 1st TSC's SFRG. He volunteered his time as a key caller, supporting families in the unit by regularly checking in with them and disseminating information.
"I love the camaraderie of volunteering," Phinisee said.
SPC. Tiffany Jenkins, Visual Information Equipment Operator, 1st TSC, said she was shocked her husband Rashad had started volunteering on his own.
"He even involves me when he sees I have free time," Jenkins said.
She volunteered at the recognition ceremony, tending the refreshment table by handing out water and cookies to those in attendance.
Different levels of rewards for volunteers were presented. The first group received the Military Medal for Outstanding Voluntary Service. Soldiers, civilians and family members received this award for volunteering an average of three years or 250 hours.
Those who have obtained the MOVSM include:
Collar. Douglas Swift (he was unable to attend as he is currently deployed)
Lieutenant Colonel Shanna Hendrix
Staff Sgt. Diana Layne
sergeant. 1st Class Joni Acevedo
sergeant. 1st Class Ruta Alexander (she was unable to attend as she is currently deployed)
sergeant. 1st Class Ralph Boyd
sergeant. 1st Angela Curry
sergeant. 1st Chantel Glover
sergeant. 1st Ward Trevor
Staff Sgt. Levi Gadson
Staff Sgt. Calan Johnson
SPC. Nicole Mota
The President's Volunteer Service Award is a civilian award given by the President of the United States to honor volunteers who devote more than 500 hours for the Gold level and more than 4,000 hours for the Lifetime Achievement Award.
sergeant. 1st Class Carol Newland received the Level of Excellence award for completing 4,230 volunteer hours. She received the award at an earlier ceremony, before rolling out downstream.
Both 1st Sgt. Alikeisha Waters and Michelle Kibitlewski received their gold level awards.
The Army Commanders' Award for Public Service Medal is awarded to family members of the 1st TSC for distinguished service or achievement that has contributed significantly to the accomplishment of the 1st TSC's mission.
These were presented to Camille Davis, Rashad Phinisee, Nancy Walton and Lindsay Ward.
The Patriotic Public Service Pin is awarded with a certificate of appreciation, in recognition of patriotic service rendered by civilians.
Those recognized by the PPSLP include:
Jennifer Clark
Mikaila Bell
Janelle Davis
James Hendrix
Lea Kibitlewski
Brittany McGee
Elisabeth Nuckols
Sara Walton
The 1st TSC also took the opportunity to recognize some of our community partners. Certificates of appreciation were presented to representatives of the following organizations:
Active Heroes
Post 113 of the American Legion Horsemen in Elizabethtown
Knox Army Community Services
Fort Knox American Red Cross
Louisville Metro United Service Organizations
Veterans of Foreign Wars Ext. 10281 in Vine Grove
You can't be what you can't see
Mark Denny, Military and Family Life Counselor
Earlier in the day, several volunteers were recognized by Russell at the U.S. Army Central Command Volunteer Awards Ceremony hosted by Lt. Gen. Ronald Clark, USARCENT Commanding General, via video conference from Shaw Air Force Base, South Carolina.
Those honored with appreciation awards were Michelle Kibitlewski, Nancy Walton, and Lindsay Ward who received their awards for all USARCENT to see.
Major Tyler Weightman and Captain Michael Krant of 1st TSC also won appreciation awards, but were unable to attend.
All volunteers were recognized for their contributions to 1st TSC, the Fort Knox community and the nation.
Russell asked everyone to think of a time when a volunteer helped them and remembered a volunteer who made a lasting impression on them.
"My family was stuck at BWI, when 'a little old lady in tennis shoes' kept the USO open and waited with my wife and kids until they could connect," Russell said. .
"To this day, I wish I could find her," he said. "I would give her a hug and personally thank her for giving the most precious thing volunteers give, and it was her time."
| | |
| --- | --- |
| Date taken: | 31.05.2022 |
| Date posted: | 31.05.2022 20:40 |
| Story ID: | 421862 |
| Location: | FORT KNOX, KY, USA |
---
| | |
| --- | --- |
| Web views: | 5 |
| Downloads: | 0 |
---
PUBLIC DOMAIN


This work, 1st TSC Volunteers Recognized by Commanding Generalby Barbara Gersnaidentified by DVDmust follow the restrictions listed at https://www.dvidshub.net/about/copyright.