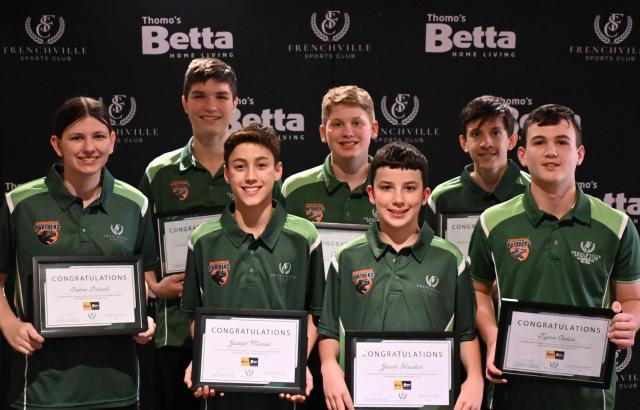 Junior Performance Program Welcomes First Recipients
The Frenchville Sports Club continues to support the local community by donating over $1 million each year, and will continue to do so through initiatives such as the new Junior Performance Program presented by Thomo's Betta Home Living.
Frenchville Sports Club Managing Director Damien Massingham said the program is open to applications from all junior sportsmen at Frenchville Sports Club and provides vital funds to these rising sports stars.
"The Club has received a total of 14 applications since its launch in May and I am happy to say that every one of them has been successful."
"The initiative was put in place with the goal of helping our junior athletes take it to the next level without the stress of financial pressures, and with nearly $5,000 in financial aid issued in the first round alone, we are Glad to say we're achieving that goal."
"Big shout out to Round 1 candidates Sophie Driscoll, Elijah Girdler, Charles Smith, Barry Smith, Samuel Adams, Hugh Everingham, Jake Armstrong, Fletcher Hicks, Tom Vagg, Gus Loughnan, Sam Driscoll, Joseph Munsel, Jacob Houston and Tyson Carlos . . It's great to see so many junior Frenchville athletes selected to more representative teams, and we look forward to seeing where this road can take you in the future.
"Frenchville Sports Club must also acknowledge the support of Thomo's Betta Home Living. Their strong support has been instrumental in the success of the program and the Club looks forward to strengthening this relationship in the future," said Mr Massingham.
Chris Thomasson of Betta Home Living, Thomo said he was proud to support the wonderful initiative of the Frenchville Sports Club.
"Central Queensland is our home and we've been proud to run a family business in the region for 32 years. This program is just one of the ways we can give back to those who have supported us and help our smallest sports stars along the way," Thomasson said.
Applications for the Frenchville Sports Club Junior Performance Program can be made year-round by visiting frenchvillesportsclub.com.au.