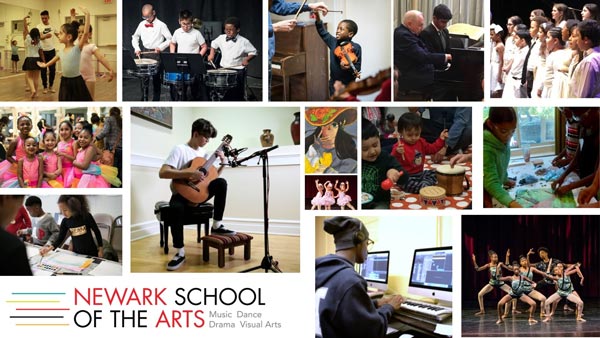 Lincoln Park Coast Cultural District Announces Music Speaks Micro Grant Recipients
NEWS | FEATURES | OVERVIEWS | EVENTS
(NEWARK, New Jersey) – Lincoln Park Coast Cultural District (LPCCD) awarded 10 artists and music curators $ 15,000 in micro-grants as part of its first-ever "Lincoln Park Music Speaks" micro-grants for the Newark music community, supported by the New Jersey Arts and Culture Recovery Fund ( NJACRF). The NJACRF was established last year and is hosted by the Princeton Area Community Foundation to ensure the strength and survival of the nonprofit arts, culture and history sector statewide.
The Lincoln Park Music Speaks micro-grants support performing / recording artists or musical event curators who provide artists with the opportunity to perform in the genres of gospel, jazz, hip hop (rap and its songs). many forms), Afro-Caribbean, spoken word, R&B, house / dance music, soul jazzy (neo-soul), soul, funk, any alternative hybrid or mash up of the aforementioned genres. The slogan "Finish That Project" was a call to action for the artistic project towards which the funds will be used.
"In our first year as a re-dealer, we have been able to include not only artists but also musical event curators who play a vital role in providing platforms for many independent artists to hone. their shows on their way to achieving bigger stages, "says Anthony Smith, executive director. "As a festival producer, the LPCCD understands how these events generate foot traffic and an economic impact on local lounges, event spaces and restaurants that are necessary for the creation of the local music ecosystem and economy. creative. The full reach of these grants would provide opportunities for dozens of music professionals in the city of Newark. We are looking to increase the Lincoln Park Music Speaks micro grant program fund in the next round. "
The review panel included Fayemi Shakur, Director, Arts and Cultural Affairs, City of Newark, NJ; Shani Saxon, vice president of development and production at I am OTHER, the strategic and creative consulting collective brought together and led by Pharrell Williams; and Wayne Winborne, executive director, Institute of Jazz Studies at Rutgers University-Newark.
Advertise with New Jersey Stage for $ 50 to $ 100 per month, click here for more information
---
The inaugural cohort of fellows is as follows:
The Newark Times: LIVE & Direct Showcase (Viviana Salgado) – LIVE & Direct is a multi-genre live entertainment showcase featuring independent artists across Newark. LIVE & Direct's goal is to provide local artists with a platform to showcase their talents and disciplines and showcase the breadth and depth of Newark's artists and performers.
---
Jamale Davis Trio: Korea & Newark (Jamale Davis) – Korea and Newark is showcased the celebration of Korean art pianist JinJoo Yoo, and her inspired expression of the music she (and Korean guitarist Ki-Hong Jang) traveled to the United States to play: Black American Music, with an idiomatic focus from the musical art form best known as Jazz. A performed mix of original songs written by JinJoo Yoo, while also including a Korean musical narrative – with the inspired aim of being able to document this process at the even more specific Newark Museum of Art, the gallery space that houses the art. from Korea.
---
Janetza Miranda: SAGE SESSIONS – SAGE SESSIONS will bring hope, balance, restoration and empowerment to the people of Newark, NJ by partnering with local independent artists who will celebrate the resilience of the small business community with mini-concerts featuring different artists from the Newark community. with security enhancements for everyone in the community, regardless of age or ability.
---
Kenny Bobien: Untitled Gospel and House Music Projects – This Newark-based artist will create two projects that will encourage, inspire and uplift people from all walks of life, especially to serve the hearts of people around the world and challenge them to a higher level of living spirit through the genre of the Gospel. . Second, Bobien's House Music project will feature original house / dance music inspired by Jazz, R&B, Pop, Afro-beats and Inspirational music genres.
---
Newark School of The Arts: International Festival of Music and Culture (Carmen Santos-Robson) – The Newark School of the Arts (NSA) will host the 3rd annual international festival of music and culture in the community of Lincoln Park, bringing together music, dance and the visual arts from different cultures in our city and beyond. The festival will take place in spring 2022 (date to be determined) on the NSA campus located at 89 Lincoln Park, Newark NJ and will feature performances from Korea, Poland, Brazil, India, Argentina, Puerto Rico, Dominican Republic and others. cultures. represented in the student body of the NSA as well as in our city.
---
EvoluCulture Ventures LLC: Speak Poet Speak Vol II (Sean Battle) – EvoluCulture is organizing the second Speak Poet Speak Vol II. The event will be hosted by Evolu Founder and CEO Sean Battle with sounds by DJ Skelly, and will feature top talent from New Jersey and beyond. This will be the first in-person event hosted by EvoluCulture since March 2020. Last year's inaugural and virtual event featured live poets from Kenya, London and Brazil, and would win a Communicators Award for video presentation , Speak Poet Speak Vol I.
---
OSoFlii Entertainment: Leah Jenea Solo Show (Larry Kapital Gainz) – A triple threat from Newark, NJ, Leah Jenea is a singer / host / actress ready to take control of the game with a combination of style, great lyrics, serious vocal range and a touch of that Brick City attitude!
---
Forest Hill Community Association: Newark Porchfest 2021 (Daniel Zanella) – Newark PorchFest strengthens the Forest Hill Community Association's (FHCA) mission to improve relationships among residents of the North Quarter, and with similar community-based organizations and city agencies to improve quality life of all who live within its borders by bringing together a wide range of individuals and artists through a fun and inclusive festival. Inspired by the success of PorchFests held across the country and building on the success of our inaugural event in 2019, Newark PorchFest brings together performers and neighbors to celebrate and create a sense of community. Over 100 performing, visual and spoken word artists (amateurs and professionals representing many diverse genres) volunteer to participate in the free one-day festival on September 25, 2021 to showcase their talents and engage the community.
---
Newark Pride Inc .: Newark Gay Pride (Alonzo S. Blalock) – The mission of Newark Pride, Inc is to increase awareness of the LGBTQ + community by providing education, advocating for social justice, increasing progressive public policies, and developing empowerment opportunities through fellowship. The LGBTQ Pride Festival is a regionally awaited signature event with a route of social, educational, political and cultural programs for youth, adults, families and allies.
---
The Antoinette Montague Experience: A Jazz Woman to the Rescue (Antoinette Montague) – The Antoinette Montague experience brings uplifting, uplifting, uplifting music and entertainment. Antoinette Montague brings Danny Mixon, Melissa Slocum, Earl Grice, Tap Dancer A Lincoln and more to entertain diverse music, jazz standards, blues, singing the R&B tunes audiences love.
---
About Lincoln Park Music Speaks – Lincoln Park 'Music Speaks' is a free, interactive lecture, music and multimedia arts series designed to increase the appreciation of Newark citizens for literature, art, photography, music and dance. Through "Music Speaks", the LPCCD seeks to educate, inform and empower the community as well as to celebrate it. In celebration of the 350th anniversary of the city of Newark in 2016, its "Music Speaks" program reached 2,000 attendees through 15 city-wide events, gathered more than 100,000 social impressions and component of public art was covered in the New York Times.
---
Advertise with New Jersey Stage for $ 50 to $ 100 per month, click here for more information
---
About Lincoln Park Coast Cultural District (Non-Profit, 501c3) – The Lincoln Park Coast Cultural District, Inc. (LPCCD) is a non-profit organization actively engaged in the practice of economic development through Creative Placemaking. Its mission is to plan, design and develop a comprehensive arts and culture district in the Lincoln Park neighborhood in downtown Newark. The main arts and culture programs of the LPCCD are the Lincoln Park Music Festival, the Lincoln Park Music Speaks city-wide humanities initiative, the Lincoln Park Jazzy Soul music series, and the Lincoln Park Sustainable Living Community Podcast.
originally posted: 08/04/21