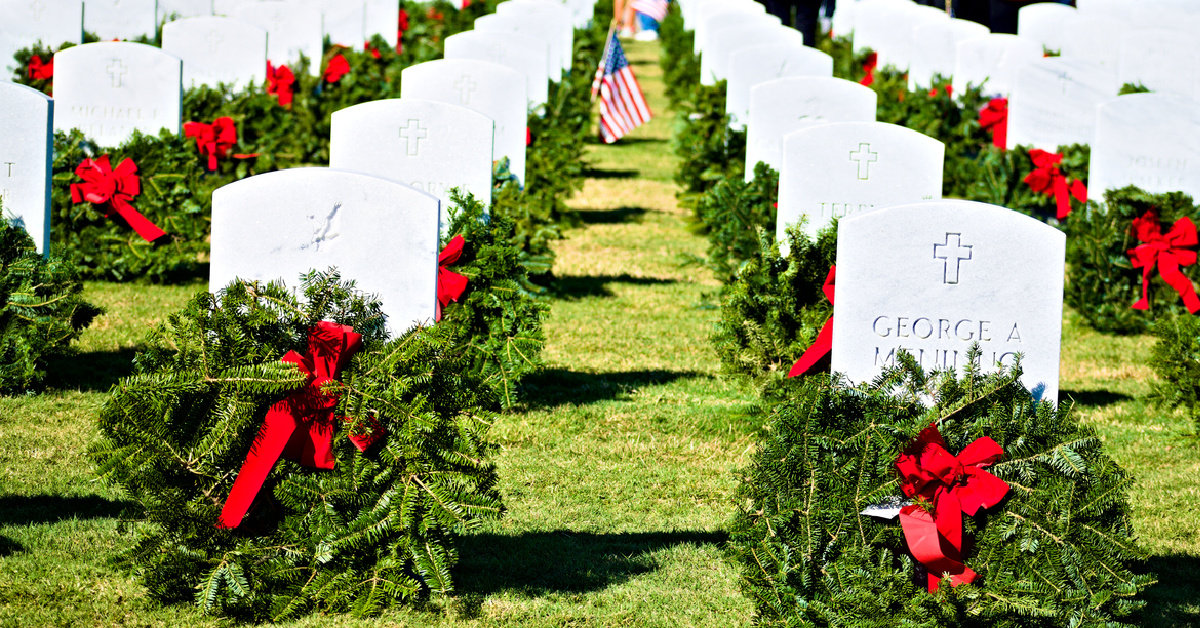 The public is invited to help the Alexandria chapter of DAR place wreaths on the graves
Alexandria, Virginia – The National Society's John Alexander Chapter, Daughters of the American Revolution, invites the community to join them this holiday season in marking the graves of Virginia veterans through Wreaths Across America.
This year, the section has chosen to ensure that the memory of veterans is properly commemorated in two cemeteries that receive less publicity and attention. The chapter chose the Quantico National Cemetery in Triangle, Va., Where more than 40,000 veterans are buried, and the Virginia Veterans Cemetery at Amelia in Amelia Court House, Va., Where 6,000 veterans were buried.
Can you sponsor a wreath?
Throughout the month of November, the chapter has collected referrals from members, their family and friends, and is currently sponsoring 101 crowns, having achieved its goal twice. They invite members of the public to join them in sponsoring a wreath, a wreath costing $ 15, and sponsorships are taken from https://www.wreathsacrossamerica.org/pages/22491
The wreaths will be laid on Saturday, December 18, 2021. Section members will travel to the Quantico National Cemetery for a ceremony and then place wreaths on the graves.
Wreaths Across America is a national non-profit organization founded in 2007 dedicated to remembering the dead, honoring those who have served and teaching the value of freedom by placing more than two million Christmas wreaths on the graves of veterans every December. The John Alexander Chapter has been involved from the inception of the program, with a special commitment to serving veterans.
"Sponsoring a wreath is a wonderful way to honor the veterans and patriots in your life this holiday season," said Megan Judt, Section Senior Vice-Regent and Wreaths Across America Coordinator. "It's a gift that touches many more people than the giver and the recipient. "
Anyone interested in sponsoring wreaths or volunteering at Quantico on December 18 should contact the Chapter at [email protected] or (410) 259-9273.
RELATED: Audience Urged to Help Lay Wreaths at Alexandria Cemetery

Views of the publication:
0