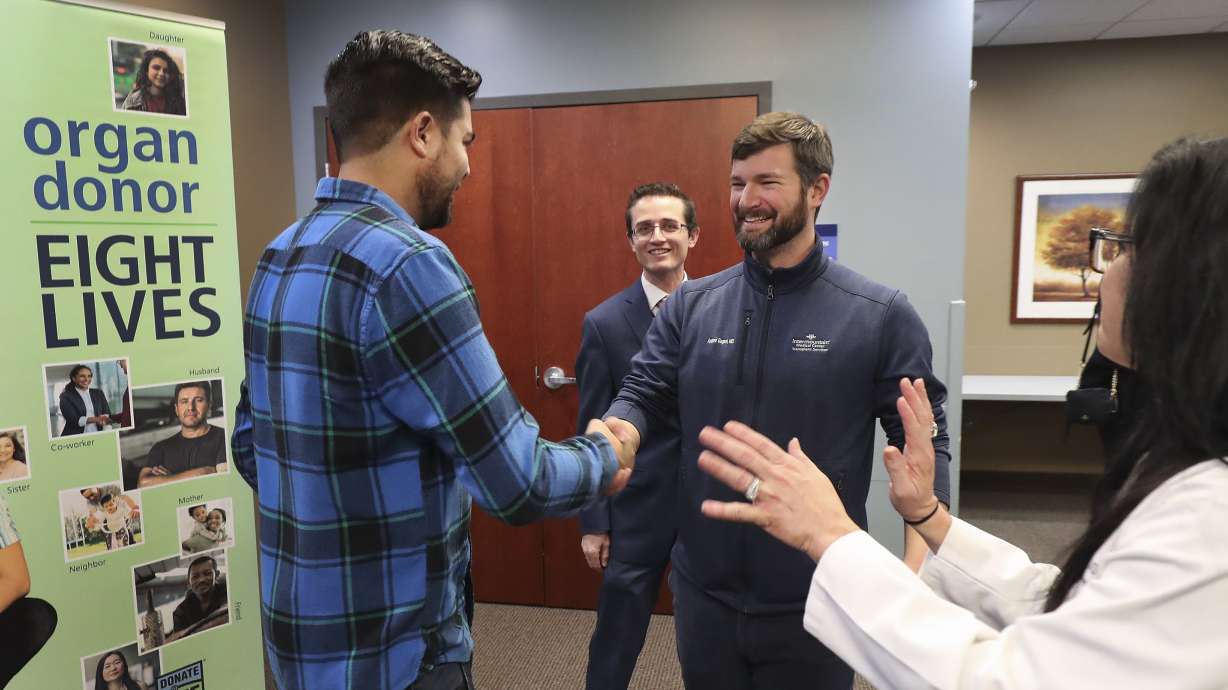 Transplant recipients remember Intermountain surgeon who died in skiing accident
Jeff Willis, left, shakes hands with his surgeon, Dr. Andrew Gagnon, during a celebration with doctors, caregivers, other transplant patients and family members at Murray Institution on January 31, 2020 Transplant recipients and donors are mourning the death of Gagnon after he died in a skiing accident this week. (Jeffrey D. Allred, Deseret News)
Estimated reading time: 3-4 minutes
SALT LAKE CITY – Transplant recipients and donors mourn the death of an Intermountain Healthcare surgeon who died in a skiing accident this week.
They tell how Dr. Andrew Gagnon impacted their lives and remember him on social media.
Gagnon died Thursday after falling off a cliff while skiing at Solitude.
While the news hits fellow doctors hard, it also leaves a huge hole in the Utah transplant community.
Jeff Willis is one of those people who knows Gagnon as the person who saved his life.
"Man, this is tough. I can't process it," Willis told KSL-TV on Saturday.
He was in denial and disbelief after hearing the news of Gagnon's death Friday night.
When he first found out, Willis found himself trying to figure out how the person responsible for bringing him back to life had died.
"I drove to the Intermountain Campus, Building 5, and sat in the parking lot, trying to process everything," Willis said. "I was just in shock."
Just two years ago, Willis, then a type 1 diabetic, suffered from end-stage renal failure. He was on dialysis through a port in his neck, and his body was shutting down. He needed a kidney and pancreas transplant to continue living.
"They said if they hadn't done this, he would be dead in a few weeks," recalls Kristina Keene, Jeff's partner. "So he was really at his wit's end."
In November 2019, Jeff recounted how he received a phone call at 2:30 a.m. indicating that Intermountain Medical Center had found a matched donor and that he should report immediately. At the time, Willis could barely walk and said he staggered to his car and went to the hospital.
It was then that he met Dr. Andrew Gagnon for the first time.
"I saw Dr. Gagnon and he introduced himself. And for a lot of people who know, he has that signature smile. It's just, it's so warm," Willis shared.
Willis said he thanked the team before putting him to sleep for the operation.
Dr. Andrew Gagnon, who passed away, saved hundreds of lives, including Jeff Willis. Jeff was in end-stage kidney failure. He is now cured of type 1 diabetes after a kidney and pancreas transplant. The death of Dr. Andrew Gagnon left him shocked and hurt for his family and @Intermountain community pic.twitter.com/JcLEm2nC4z

— Lauren Steinbrecher (@LaurenSnews) February 6, 2022
Keene waited anxiously outside the operating room for the four or five hours it took to operate.
When finished, she described how Gagnon came out exhausted, but relieved and happy. She burst into tears and hugged Gagnon sobbing.
"That kindness and comfort that I received from him was overwhelming," Keene said. "Honestly, I don't know if I would have handled that night as well as I did without him."
Willis left the hospital two weeks later with both a new kidney and a new pancreas – and without type 1 diabetes.
He had the chance a few months later to thank Gagnon at an event to celebrate Willis as the 3,000th kidney transplant patient in the Intermountain Healthcare Transplant Program.
A photo shows him shaking hands with Gagnon, the two men all smiles.
"I don't know how to thank you. I have to make every day count," Willis recalled telling Gagnon. "And for him, it was just like, 'You're alive. This is my payback if you're alive.' And (he was) just such a good human being in general."
It was the last time they saw each other, but since then he thinks of Gagnon and the whole team of the Intermountain Healthcare Transplantation Program.
Willis' story is just one of hundreds about Dr. Andrew Gagnon and what he did to give patients another chance at life.
"Dr. Gagnon gave me a second birthday. And it felt like life only started for me after about 40 years," Willis said.
He thinks of Gagnon, especially now, knowing better than anyone how precious life is.
He said his thoughts are with Gagnon's family and the team at Intermountain Healthcare.
"From now on, I'm going to do my best, as much as I can," Willis said. "Because to be alive is a privilege."
×
Related stories
More stories that might interest you