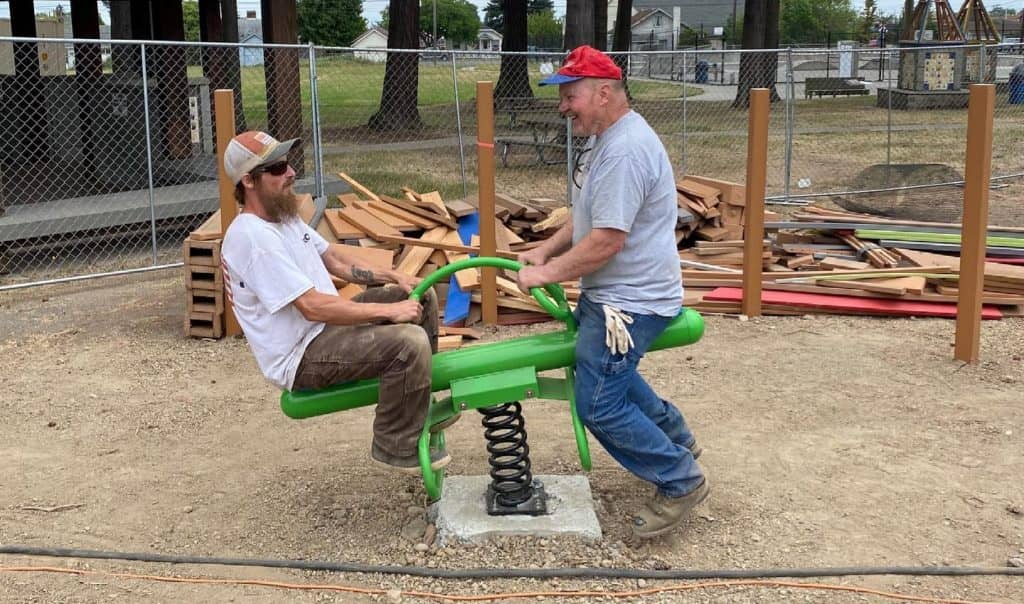 Volunteers needed for last effort to complete Dream Playground in 2 days
By Pepper Fisher
PORT ANGELES – The community building of the Generation II Dream Playground in Port Angeles was a great success thanks to the hundreds of volunteers, and now is the time to give the final push to complete it.
Results so far show the process was well planned, but those 4 days of record high temperatures at the end of June was something no one could have predicted.
"We weren't quite done because the heat wave really wiped out our volunteer numbers in the first week and naturally people stayed home for their own health and safety. So it delayed us about a day and a half. So we're not quite done.
It was Dream Playground Foundation president Steve Methner who called to say it was time for one last lap this weekend to reach the finish line.
"It's definitely time to rally the troops. We're redoing a small version of the big build this coming weekend. So we'll be there three shifts from 8:00 a.m. to 8:00 p.m., and we're actually firing the architect and construction consultants to get it certified on Saturday before we're done. So this is definitely a situation where all the players are on deck, but we are very confident that we can make it happen and we may even have time, due to the delay, to work on finishing details. really neat.
Methner says the only real setback, thanks to the heat wave, is that opening day has been pushed back to the second or third week of August to give entrepreneurs time to set up the playing surface.
Once again, the team's final effort is this Friday and Saturday. Skilled and unskilled workers are needed, lunch and dinner are provided, and the weather promises to be perfect.
"I think we're really going to have a blast and I think this playground is one of those seeds of excitement and hope for the future that we're really creating for ourselves in the city here."
Register to become a volunteer at padreamplayground.org.
(Photo courtesy of the Dream Playground Facebook page)