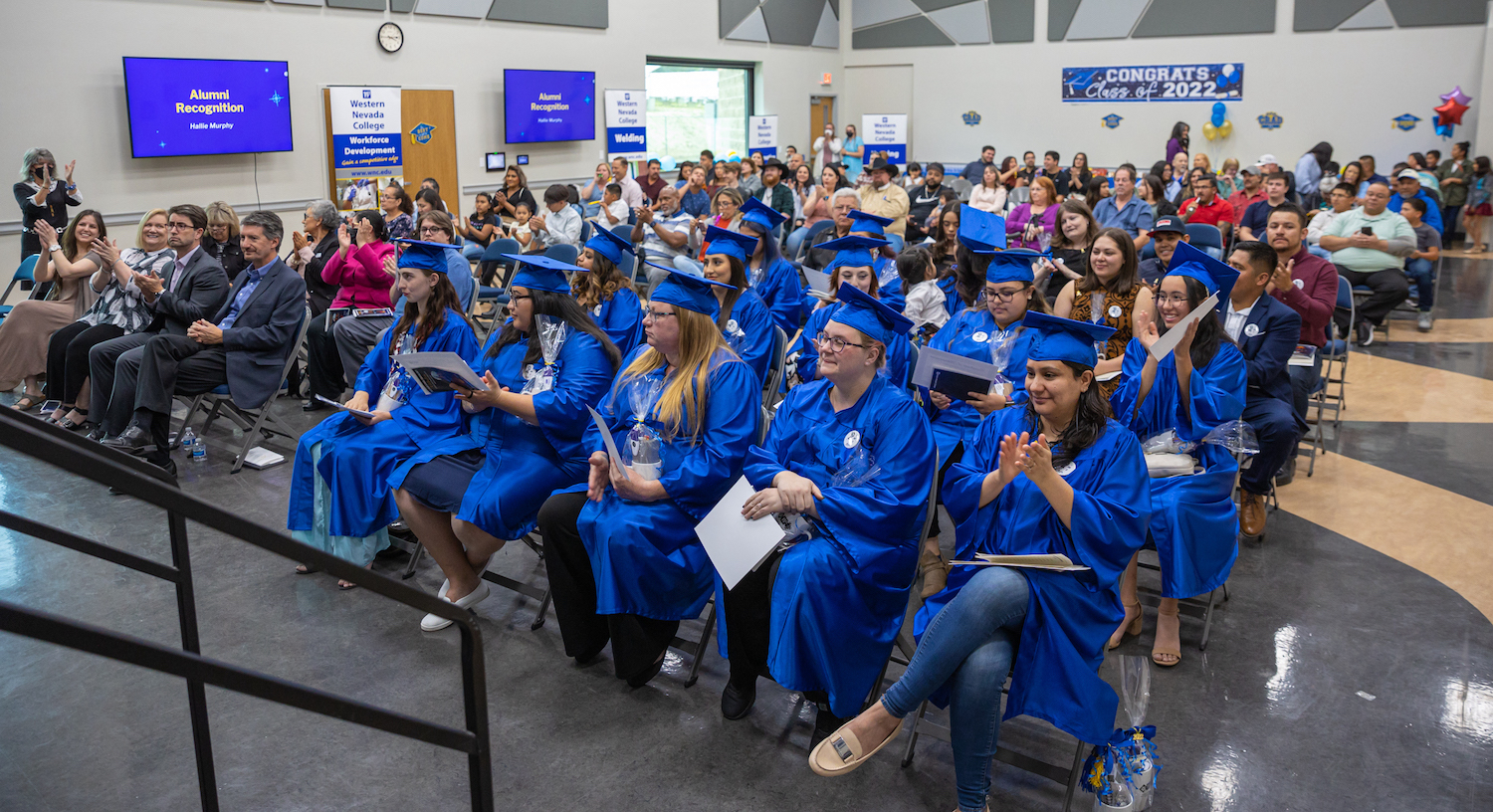 WNC's ACCEL Program Honors HSE Recipients and Honor Society Inductees
More than 100 students were recognized by Western Nevada College's ACCEL Adult Education Program at the 2022 High School Equivalency Celebration and National Adult Education Honors Society Induction Ceremony.
WNC honored 32 high school equivalency recipients from 2021-2022, 32 HSE recipients from 2019-2020, and 65 National Adult Honor Society inductees from 2020-22 at the celebration at Carson Nugget Hall on the Carson City campus.
"I am so proud of these high school equivalency recipients and Honor Society inductees," said Angela Andrade-Holt, Director and Chief HSE Examiner of WNC's ACCEL College and Career Readiness Program. "I get to work with these students and this program every day. I can witness amazing things happening in the classroom and beyond. Whether it's improving English fluency, achieving the HSE or making the transition to university and the workforce, our students' perseverance in achieving their individual goals is inspiring. This is all possible thanks to my incredible team of staff and instructors who believe in the power of adult education to transform lives.
The 32 high school equivalency recipients for 2021-22 are Claudia Angel Solano, Victor Baltazar, Dean Bradbury, Cheyenne Burton, Jesenia Camarena Amaya, Kristylynn Campbell, Goldie Consalvi, Violet Furnee, Cayden Gaines, Omar Godinez, Emily Goldberg , Carrie Gonzales, Josalyne Hernandez, Joakima Hillyard, Candace Hoffman, Dulce Jimenez Cervantes, Jessica Lusk, Lexie McComb, Morganna McCormick, Melissa Medina-Lopez, Careli Montes de la Torre, Bryndis Mortensen, Thora Mortensen, Lexys Oswald, Ryan Ramsay, Alondra Rodriguez Lara, Veda Roser, Sharlotte Shanes, Kolter Stickler, Vicky Vickye, Lucas Vincent and Breah Weddell.
The 65 high school equivalency recipients for 2019-20 are Silvia Acosta, Camron Bass, Reyna Beltran, Antonio Brown, Sierra Burton, Moises Canas, Saul Canas, Isaiah Case, Edgar Chavez, Christine Connelly, Heather Cordell, Ashley Davis, Andrea Ditchey, Wendy Doebbeling, Merry Ebsen, Heather Esche, Virginia Espinosa, Evelyn Espinoza, Alexsis Esquivel-Ruiz, Natalie Esquivias-Gutierrez, German Fernandez, Hector Fuentes, Miguel Garcia, Amity Garfield, Eimilee-Anne Garner, Jonathan Gonzalez, Diego Gutierrez, Juno Irie Hall, Devin Hamilton, Tyler Hernandez, Jordan Hoover, Dawn Kincheloe, Joseph Larson, René Lopez, Gage Manning, Ashley Marsola, Saira Martinez, Victoria McKellar, Cyrus Mendoza, Diana Mendoza-Gonzalez, Marcella Miller, Ryan Pier , Michael Powers, Steven Rivera, Carlos Robles, Angielina Rodriguez, Adrian Rodriguez-Ruiz, Alexander Russell, Oscar Sanchez, Alejandra Sandoval, Richard Saylor-Landa, Joel Sepulveda, Grace Serrano, Nikolai Stiefel, Jake Stumbaugh, Jaim e Tijerina, Maria T orres, Jose Vela-Juarez, Aligha Weeks, Elizabeth Whitaker, Tapanga White, Tara Wilson, David Wren, Heather Wright and Patrick Young.
The 32 members of the National Adult Honor Society from 2020 to 22 are Azucena Acosta, Cristy Arevalo, Medardo Jose-Basilio, Novelyn Candol, Hortencia Castaneda, Maria Imelda Duran, German Fernandez, Omar Godinez, Gustavo Gonzalez, Maria Dora Guerrero, Natascha Heller , Raquel Heredia, Maricela Lopez, Veronica Lopez, Luis Mendez, Susana Montejano-Gaona, Alyona Nekrasova, Veronica Nolasco, Silvia Orozco, Hilary Pineda, Roberto Giovanni Platero, Maricela Munoz Robles, Fernando Rodriguez, Gabino Rodriguez, Juan Romero, Jennifer Varela, Jose Angel Ramirez Vega, Juan Ramon Vega, Vicky Vickye, Li Yang, Claudia Zambrano and Guillermina Zaragoza.
Andrade-Holt delivered welcome and closing remarks, Acting WNC Chairman J. Kyle Dalpe delivered celebratory speech, Senior Counsel Lance White of the Nevada Attorney General's Office delivered the celebratory speech. opening and Nancy Olsen of the Nevada Department of Education honored the students.
"I appreciate the families and friends of our students who stand up for their success and whose support makes their dreams possible," Andrade-Holt said. "Thank you to everyone who has contributed in one way or another to being better prepared to pursue higher education or enter the local workforce with the skills needed for skilled jobs with greater earning potential. Congratulations! We are so proud of you!"
ACCEL is a college and career readiness program that fosters a supportive learning environment for adults seeking to enrich their lives and communities.
For more information about the college's ACCEL program, call 775-445-4452 or email [email protected]